Skip to Content
High-Quality Leaf Screens in Lafayette, LA
Cleaning your gutters is an essential chore. But it is also a time-consuming one. American Gutters has the solution: leaf screens. Our Lafayette, LA company specializes in installing guards that prevent accumulations of debris and leaves and allow water to flow throughout your gutters and away from your home. Investing in this technology is one of the best ways to improve your home or business and reduce the amount of time you spend performing tedious – but important – tasks like gutter cleaning.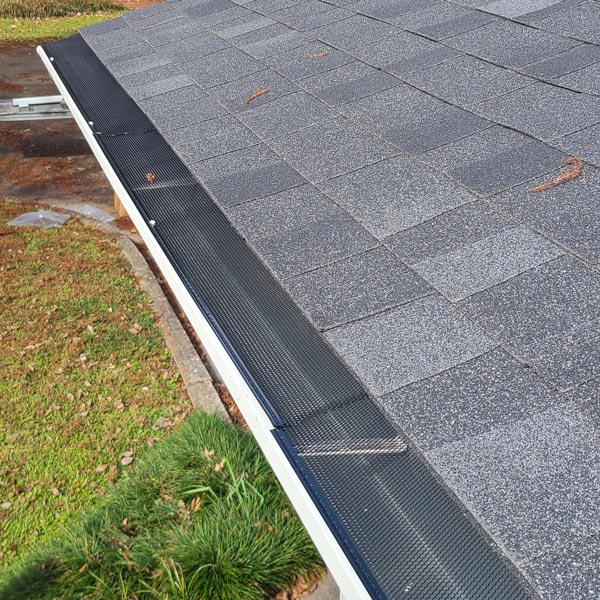 The Benefits of Installing Leaf Guards & Screens
Gutter covers and leaf guards are effective ways of blocking debris and leaves and protecting your gutters from weather conditions, wind storms, blossoms, twigs, squirrels, balls, toys, and much more. There are three basic designs available to you. Single vane or helmet types, helmet designs with a built-in trough, and louvered systems.
Fire Prevention
Dried leaves and debris are natural accelerants and can contribute to an even larger fire. One of the benefits of a guard is preventing these elements from gathering in your gutter and posing a risk.
Rust & Corrosion Prevention
Moisture causes rust and corrosion. Once your gutters degrade like that, you will have to replace them. Leaf screens and gutter guards prevent moisture from pooling in your gutters.
Improved Water Flow
One of the other benefits of preventing clogs is allowing your gutters to do what they are supposed to: directing rainwater away from your foundation. They are especially beneficial if you have a rainwater tank.
Fewer Blockages
Louisiana rainstorms are a fact of life. In periods of heavy rain, your gutters must function correctly. Leaf guards are essential to providing the advantage your home or business needs to operate properly.
High-Quality Materials & Personalized Customer Service
We pride ourselves on installing only the highest-quality materials on our customers' properties. Whether you own a home or business, you can count on our team to provide leaf screens built to withstand punishing winds and rain. Most importantly, you can always rely on honest and friendly customer service from our team – from our owners to our installers. We've followed through on these promises for decades.
Contact Us Today for More Information