Skip to Content
Reliable Gutter Repair in Lafayette, LA Since 1979
American Gutters leads the way in gutter services throughout Lafayette, LA. Gutter repair is one of our most in-demand offerings. Storms and age will degrade your gutters – requiring minor and major repairs. Fortunately, we know how to diagnose problems with your gutters and implement the correct fixes. We have worked on countless residential properties over the years, making us one of the industry's most reliable and experienced companies. Our reputation precedes us, and we can't wait to help keep your home functional for years.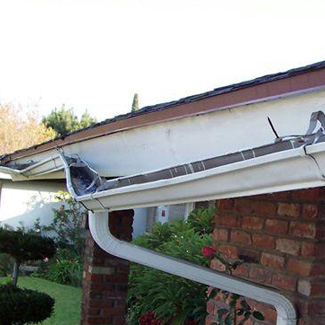 Signs You Need to Contact Us for Gutter Repair
We know how much work keeping your home or business in good shape can be. But staying on top of your gutters' condition is important. Fortunately, it isn't difficult to tell when you need professionals to provide repairs. You don't need to grab a ladder on your roof or perform hours of investigation.
The Signs That You Require Gutter Repair Are Easy to Spot!
Uneven Gutters
Sagging gutters are ineffective because they do not allow water to flow throughout the gutter system. Many things can cause uneven gutters – including too much accumulation of debris.
Mildew or Staining
Mildew or staining in your attic could mean several things – including problems with your gutters. A gutter-related problem is the cheapest to fix, so we recommend starting there.
Peeling Paint & Rusting Metal
If the paint on your siding is peeling or your gutters are rusting, there is likely a leak somewhere. We will find it and mend it, so your gutters function correctly.
Pooling Water at the Building's Base
Your gutters are supposed to divert water away from your foundation. That is their primary function. Pooling water at the foundation is a sign there is a problem.
Gutter Hardware on the Ground
Screws and other pieces of your gutters should not fall off the gutter. If you find anything around your home, contact us, and we will provide repairs.
Gutter Repair Is Far Cheaper Than Foundation Repair – Call Today
We are committed to helping home, and business owners keep their properties in good condition. If you allow gutter problems to continue without repairs, you risk damage to your foundation – a costly fix. Hiring our professionals to provide affordable maintenance is far cheaper than comprehensive foundation repair. Pay attention to the signs of broken or inefficient gutters, and get in touch with us when there is a problem.
Contact Us Today for More Information