Seamless, every straight run is continuous, no seams and are built on site.

Senox Brand Aluminum is lightweight, durable, cost effective and will not rust or corrode.

Baked on enamel paint from the manufacturer.

Functional and aesthetically pleasing.

Comes in over 20 different colors that we can find to fit any Home.
The main purpose of a rain gutter system is to safely collect and channel the roof water away from the foundation of the home. The most common gutter for residential structures installed today is a seamless aluminum K-style gutter which gives the appearance of a crown molding around the roof line. On the K-style, the back is higher than the front, therefore water will not overflow toward the rear of the gutter. Seamless gutters eliminate unsightly seams and the possibility of leaks.
One foot of 6" K-Style gutter holds 2.0 gallons of water
One foot of 5" K-Style gutter holds 1.2 gallons of water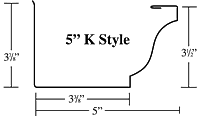 Serving Acadiana Since 1979